Regular price
Sale price
$25.00
Unit price
per
Sale
Currently Sold out
Volkman Avian Science Diet Super Cockatiel seed mix that contains no sunflower seeds.
Available in a 4 lb. bag and a 20 lb. bag size
Ingredients include White Proso Millet, Safflower, Canary Grass Seed, Oat Groats, Buckwheat, Cracked Corn, Wheat, Shelled Peanuts, Hemp Seed, Vitamized Oat Groats, Rainbow Papaya Dices, Carrot Dices, Shredded Coconut, Green and Red Pepper Dices, and Spinach Flakes.
View full details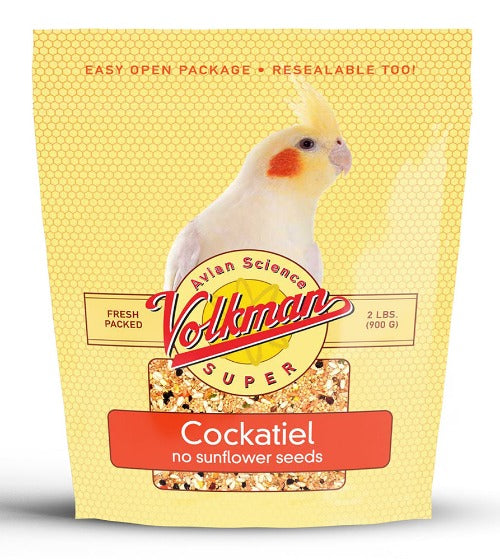 Collapsible content
Bird Recommendations

Small Birds - Budgies, Parakeets, LoveBirds, Parrotlets, Cockatiels, Quakers, Conures, etc.
Ingredient Listing

Ingredients: White Proso Millet, Safflower, Canary Grass Seed, Oat Groats, Buckwheat, Cracked Corn, Wheat, Shelled Peanuts, Hemp Seed, Vitamized Oat Groats, Rainbow Papaya Dices, Carrot Dices, Shredded Coconut, Green and Red Pepper Dices, Orange Oil and Spinach Flakes.

Analysis: Crude Protein, not less than12.06% Crude Fat, not less than 9.75% Crude Fiber, not more than 8.75% Moisture, not more than 15.00% Ash, not more than 3.50%
Availability

4 lb. Usually ships in 3-4 business days
20 lb. Usually ships in 3-5 business daysUsually ships in 2-3 business days