Regular price
Sale price
$10.99
Unit price
per
Sale
Currently Sold out
Many small parrots, such as cockatiels, parakeets, and parrotlets, are ground feeders. That means a good amount of their daily food consists of seeds. Many of the seeds they eat in the wild are germinated. When seeds germinate (soak up/absorb humidity), they get ready to provide the necessary boost of nutrition for a plant to develop and grow. All of this nutrition is awakened when the seeds are soaked or germinated. Soak TOP's Napoleon's Seed Mix™ and it releases this nutrition to the birds.
Napoleon's Seed Mix is perfect for small hookbills who have big egos. Feed it to your bird dry or soak 8-12 hours.
Available in 1 lb., 5 lb., and 10 lb. size bags.
See ingredient listing below
View full details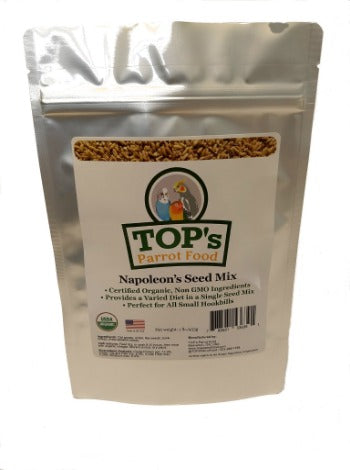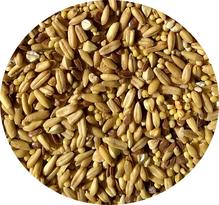 Collapsible content
Bird Recommendations

Extra Small and Small - Budgies, LoveBirds, Parrotlets, to Conures, etc.
Ingredient Listing

Ingredients:
Organic Oat Groats, Organic Hulled Millet, Organic Flax Seeds, Organic Sesame Seeds and Organic Buckwheat.
Availability

Usually ships in 3-4 business daysUsually ships in 3-5 business days