Regular price
Sale price
$44.00
Unit price
per
Sale
Currently Sold out
Volkman Avian Science Super Eclectus diets meet the special requirements of Eclectus Parrots.  May also be fed to any other parrots who enjoy this special blend of fruits, vegetables, and seeds.
Available in a 4 lb. size bag and 20 lb. bag
Ingredients include Safflower Seed, Hemp Seed, Wheat, Millet, Sunflower Seed, Dehydrated Carrot, Pumpkin Seed, Rough Rice, Buckwheat, Oat Groats, Coconut, Dehydrated Peas, Sun-Cured Apricot, Sun-Cured Nectarine, Sun-Cured Apple, Sun-Cured Pineapple, Sun-Cured Papaya, Sun-Cured Raisins, Sun-Cured Cranberries, Sun-Cured Peaches, Sunflower Oil, Almonds, Peppers
Note: this diet is not vitamin-fortified due to special Eclectus metabolic requirements.
View full details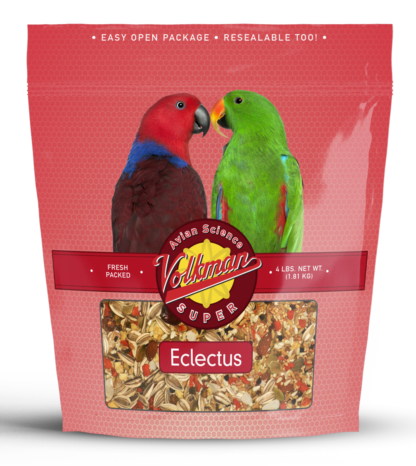 Collapsible content
Bird Recommendations

Small, Medium, and Large Birds - Conures to African Greys, Amazons, etc.
Ingredient Listing

Ingredients: Safflower Seed, Hemp Seed, Wheat, Millet, Sunflower Seed, Dehydrated Carrot, Pumpkin Seed, Rough Rice, Buckwheat, Oat Groats, Coconut, Dehydrated Peas, Sun-Cured Apricot, Sun-Cured Nectarine, Sun-Cured Apple, Sun-Cured Pineapple, Sun-Cured Papaya, Sun-Cured Raisins, Sun-Cured Cranberries, Sun-Cured Peaches, Sunflower Oil, Almonds, Peppers, Orange oil, Citric Acid, Calcium, Sugar, FD&C Red No. 40, FD&C Blue No. 1, FD&C Yellow No. 5, and No. 6, Sulfur Dioxide (preservative). Note: this diet is not vitamin-fortified due to special Eclectus metabolic requirements.

Analysis: Crude Protein, not less than 13.90% Crude Fiber, not more than 11.00% Crude Fat, not less than 19.40% Moisture, not more than 15.00% Ash, not more than 3.50%
Availability

4 lb. Usually ships in 2-3 business days
20 lb. Usually ships in 3-4 business daysUsually ships in 2-3 business days