Regular price
Sale price
$18.99
Unit price
per
Sale
Currently Sold out
THRIVE by Morning Bird is a full spectrum blend of high-potency vitamins, minerals, amino acids, electrolytes, and protein for sick, injured birds, or senior birds who need a boost to their immune system. These ingredients provide a highly nutritious energy supplement improving the bird's immune system and ability to fight disease. THRIVE is a great supplement for older birds who can benefit from extra supplementation to their diet. THRIVE is also an excellent supplement for use in hand-rearing chicks.
THRIVE is very easy to use with your bird.  Simply sprinkle one-quarter teaspoon (1.25ml) over one cup (8 oz. or .23 Liter) of fruits, vegetables, soaked seed, or other soft food. 
Keep container closed before and after use. Store in a cool, dry place. This product is free of pesticides.  Available in 1-ounce size container.
View full details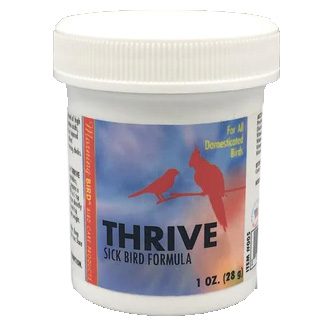 Collapsible content
Ingredient Listing

Vitamins, Minerals & Amino Acids:

Vitamin B-1
Vitamin B-2
Vitamin B-3
Vitamin B-6
Vitamin B-12
Vitamin K
Biotin
Calcium Pantothenate
Choline Bitartrate
Folic Acid Minerals
Cobalt Chloride
Copper Gluconate
Iron Citrate
Magnesium Oxide
Manganese Sulfate
Potassium Iodide
Silicon Dioxide
Sodium Selenite
Sulfur
Zinc Sulphate Amino Acids
Methionine
Lysine
Alanine
Arginine
Asparic Acid
Cysteine
Glutamic Acid
Glutamine
Histidine
Isoleusince
Leucine
Phenylalanine
Proline
Serine
Theonine
5-Hydroxytryptophan
Tyrosine
Valine

Electrolytes:

Potassium Ions
Sodium Ions
Citrate Ions
Bicarbonate Ions

Availability

Usually ships in 3-5 business days