The small size Shower Sand Perch by Polly's Pet Products is a multipurpose perch that can be used on a solid surface such as a window, shower, or mirror.  With a non-slip, sand coating on the lightweight PVC perch, the large size Shower Sand Perch will pamper your bird with the perfect surface to clean and trim nails and beaks as they shower or play in a window area.   
This shower perch has 3 oversized suction cups to simplify mounting and help support even heavier birds.  The shower perch also has a metal hanging loop on the end to provide a convenient way to add a bird toy for additional mental and physical stimulation.
The Shower Sand Perch folds flat when not in use and measures approximately 10.5" x 7/8" in size.
Recommended for larger birds such as Cockatiels, Budgies, Ringnecks, Conures, Senegals, Quakers, Mini Macaws, and similar-sized birds..
Regular price
Sale price
$54.50
Unit price
per
Sale
Currently Sold out
Add Customer Favs to Bundle & Save
Shower Sand Perch Small

$54.50

+
---
View full details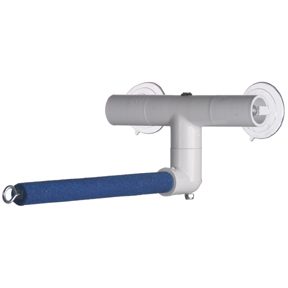 Additional Information:
Recommeded Sizing

Extra Small and Small - Budgies, LoveBirds, Parrotlets, to Conures, etc.
Availabiity

Usually ships in 3-5 business days