A fun mini size Flying Trapeze just for the little ones. Canaries, Finches, Budgies, Lovebirds, parrotlets, and similar sized birds are going to love this fun play area. Made of natural seagrass, the mini trapeze can become your bird's favorite resting place and/or playing place.
The mini Flying Trapeze may be small in size, but it has so much fun potential for your bird. Measuring approximately 9" x 7" in size, it has colorful plastic hanging chains, toy shapes, cushy balls, and mini pacifiers to enjoy. The base of the trapeze is made of natural grass material and provides a great resting place for a change of perching. The trapeze can provide climbing and swinging fun for active birds as well as providing a natural flat surface to give small birdie toes a chance to stretch out and rest.
The mini size Flying Trapeze is also a great play or rest area for birds with handicaps or foot issues. Can be placed next to the side of the cage for easy access for handicapped birds so they have easy access. For birds that have trouble gripping standard perches, the trapeze allows them to safely play and rest.
Regular price
Sale price
$15.99
Unit price
per
Sale
Currently Sold out
View full details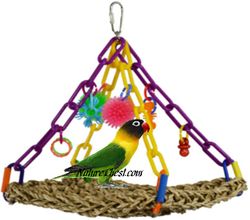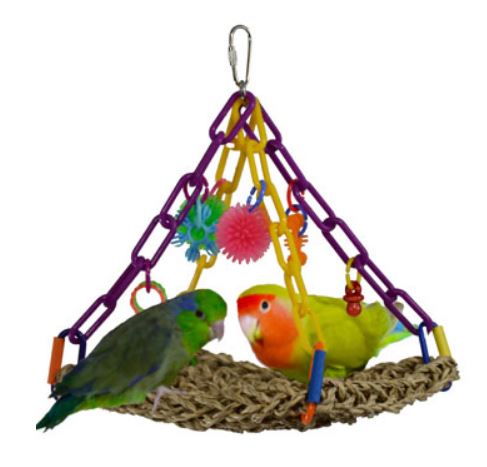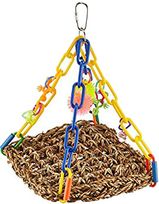 Additional Information:
Recommeded Sizing

Extra Small and Small - Budgies, LoveBirds, Parrotlets, to Conures, etc.
Availabiity

Usually ships in 3-5 business days