Regular price
Sale price
$14.99
Unit price
per
Sale
Currently Sold out
Add a little spice to your bird's life with El Paso Nutri-Berries! They are made with taste-grabbing ingredients like red and green bell peppers and seasoned with cayenne pepper and other exotic spices that your bird is sure to go wild over! El Paso Nutri-Berries are a nutritionally complete food designed to cater to your bird's foraging instincts and excite his taste buds. We believe your bird's food can be both exciting and nutritious. Your feathered friend will love holding, pulling, and tearing at each berrie.
Instead of grinding down the ingredients into a pelleted form, the ingredients in El Paso Nutri-Berries are left mostly whole to give your bird zesty flavors and textures pelleted diets lack. And, unlike vitamin- and mineral-fortified seed mixes that lose their health benefits once the bird cracks open the seed, Nutri-Berries are made with hulled seeds and grains. Each berrie is then coated with essential vitamins and minerals to ensure that your bird receives balanced nutrition in each bite.
Made with red and green bell peppers and seasoned with cayenne pepper
Exceptional high rate of birds' acceptability compared to regular pellets
Omega 3 & 6 fatty acid balanced
Naturally preserved & flavored
Non-GMO formula
Made in the USA on the Lafeber Family Farm
Can be offered as a complete diet or as a healthy treat
Available in a 10 ounce size bag
View full details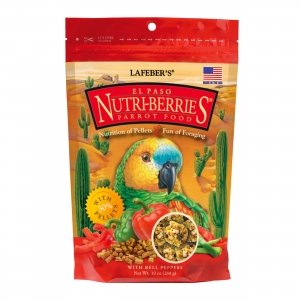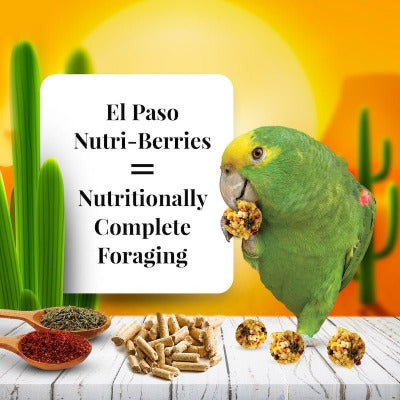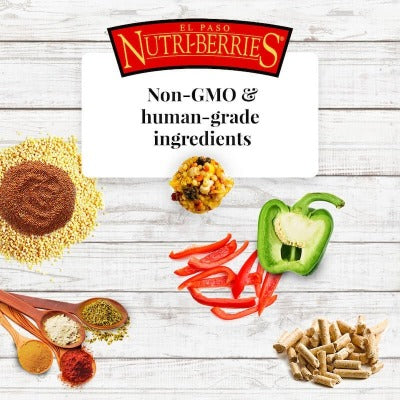 Collapsible content
Bird Recommendations

Small, Medium, and Large Birds - Conures to African Greys, Amazons, etc.
Availability

Usually ships in 2-3 business days