Regular price
Sale price
$19.50
Unit price
per
Sale
Currently Sold out
TOP's Premium Birdie Bread Mix is made from the same natural ingredients as TOP's pellets.  TOP's Bird Breads are available in four delicious flavors: Cajun Spice, Blueberry Burst, Peas and Carrots, and Mediterranean. 
Each bag of the premium mix is USDA Organic Certified.  TOP's Birdie Bread Mix is larger than most other bird bread brands.  Use only 2 cups per batch. Please read the directions and measure 2 cups to begin. The 4-cup bag is enough for two (2) batches
An easy-to-follow recipe is included to walk you through making this delightful treat for your companion. 
View full details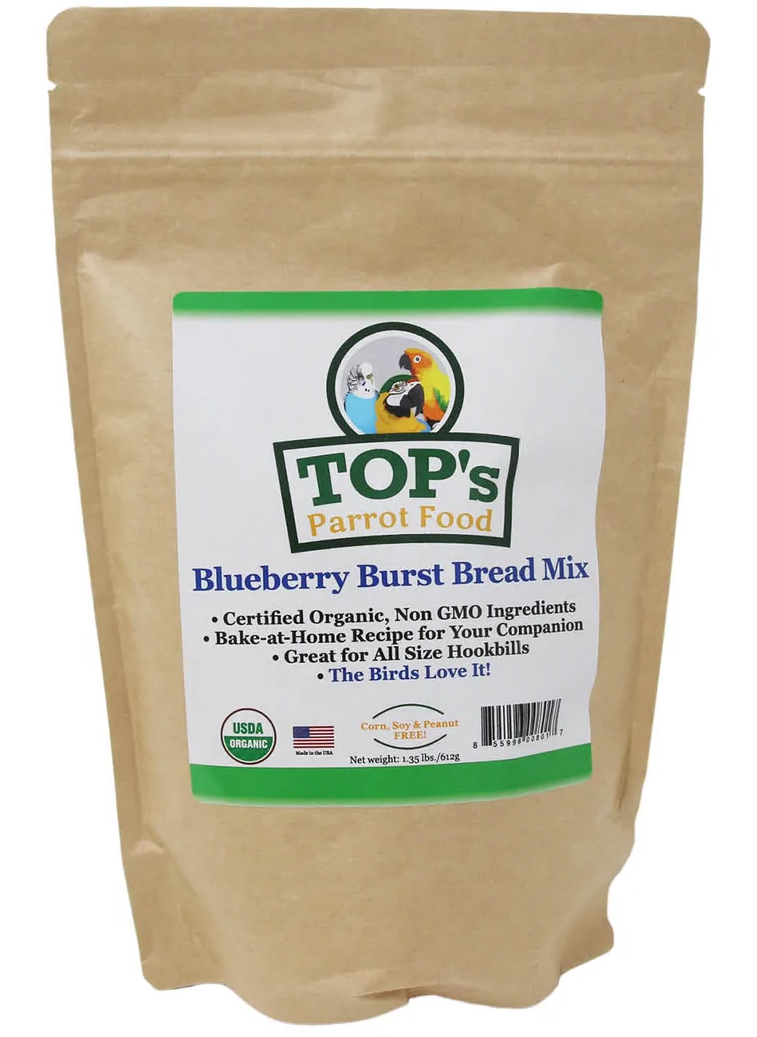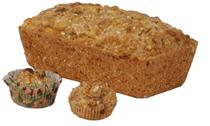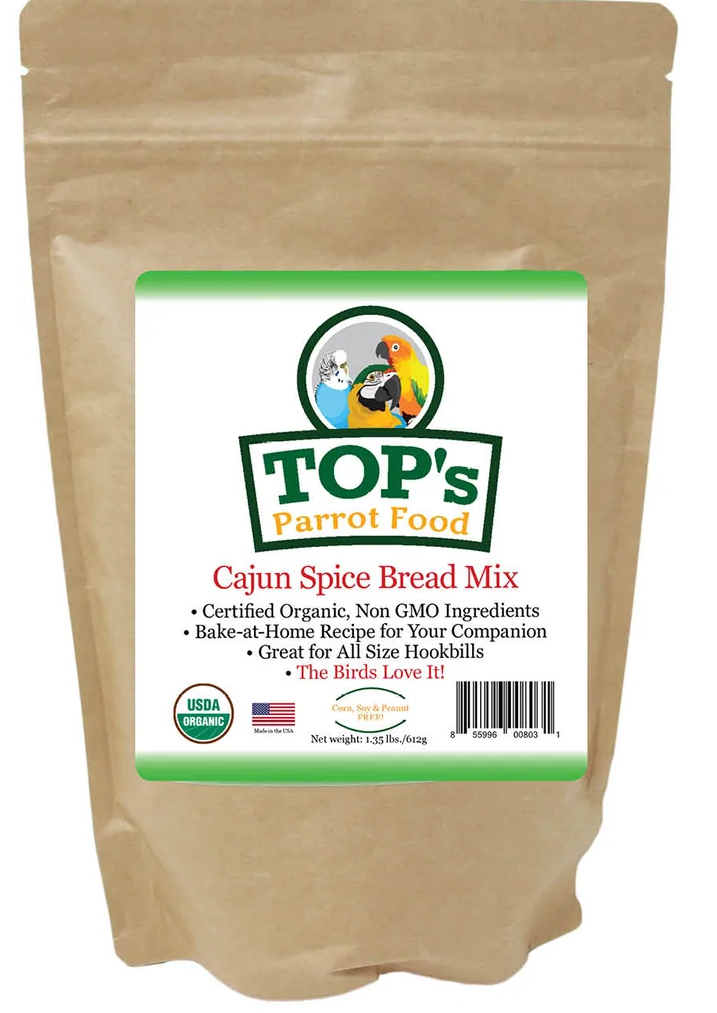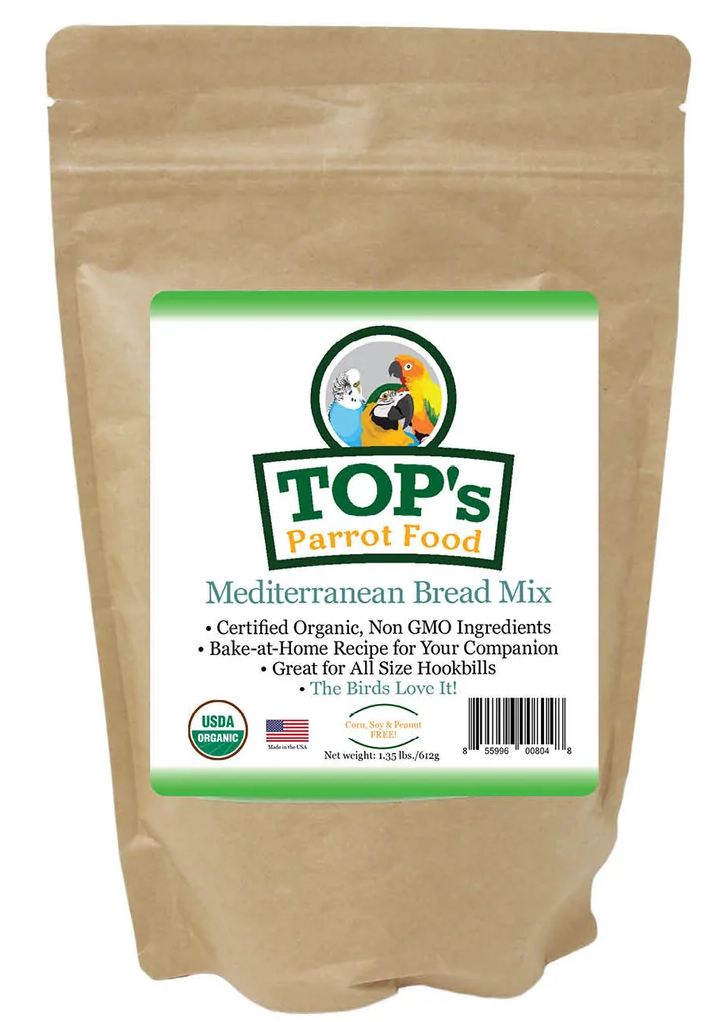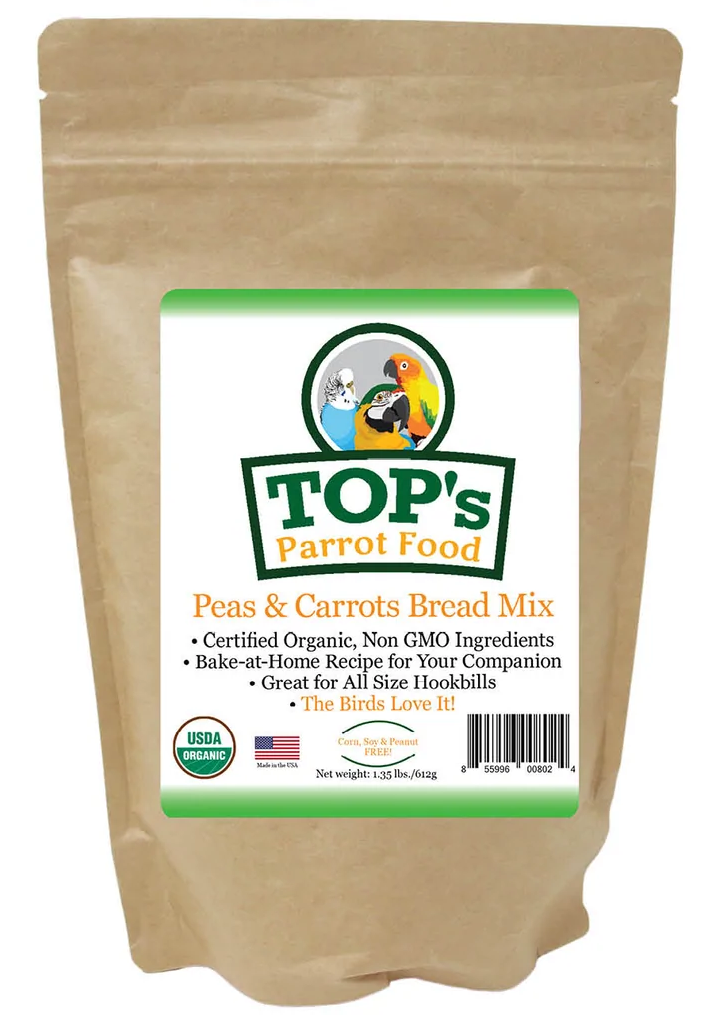 Collapsible content
Ingredient Listing

Guaranteed Analysis of TOP's Birdie Bread Mix: Crude Protein min 13.6%, Crude Fiber max 8%, Crude Fat min 5%, Moisture max 10.3%.

Blueberry Burst
Ingredients: Alfalfa leaf*, millet hulled*, barley*, rice*, [The following ingredients comprise no more than 5% of total volume each.] sunflower seed hulled*, sesame seeds unhulled*, quinoa whole*, buckwheat hulled*, dandelion leaf powder*, carrot powder*, spinach leaf powder*, seaweeds* (purple dulse & kelp), rose hips powder*, rose hips crushed*, orange peel powder*, lemon peel powder*, rosemary whole leaf*, cayenne ground*, crushed red chili peppers*, nettle leaf*, cinnamon*, dried blueberries*. *organic

Cajun Spice
Ingredients: Alfalfa leaf*, millet hulled*, barley*, rice*, [The following ingredients comprise no more than 5% of total volume each.] sunflower seed hulled*, sesame seeds unhulled*, quinoa whole*, buckwheat hulled*, dandelion leaf powder*, carrot powder*, spinach leaf powder*, seaweeds* (purple dulse & kelp), rose hips powder*, rose hips crushed*, orange peel powder*, lemon peel powder*, rosemary whole leaf*, cayenne ground*, crushed red chili peppers*, nettle leaf*, cinnamon*. *organic

Mediterranean
Ingredients: Alfalfa leaf*, millet hulled*, barley*, rice*, [The following ingredients comprise no more than 5% of total volume each.] sunflower seed hulled*, sesame seeds unhulled*, quinoa whole*, buckwheat hulled*, dandelion leaf powder*, carrot powder*, spinach leaf powder*, seaweeds* (purple dulse & kelp), rose hips powder*, rose hips crushed*, orange peel powder*, lemon peel powder*, rosemary whole leaf*, cayenne ground*, crushed red chili peppers*, nettle leaf*, cinnamon*, dried red pepper*. *organic

Peas and Carrots
Ingredients: Alfalfa leaf*, millet hulled*, barley*, rice*, [The following ingredients comprise no more than 5% of total volume each.] sunflower seed hulled*, sesame seeds unhulled*, quinoa whole*, buckwheat hulled*, dandelion leaf powder*, carrot powder*, spinach leaf powder*, seaweeds* (purple dulse & kelp), rose hips powder*, rose hips crushed*, orange peel powder*, lemon peel powder*, rosemary whole leaf*, cayenne ground*, crushed red chili peppers*, nettle leaf*, cinnamon*, dried peas*, dried carrots*. *organic
Availability

Usually ships in 5-7 business days