Regular price
Sale price
$44.99
Unit price
per
Sale
Currently Sold out
Lafeber's Premium Daily Diet for parrots was created  to ensure your bird gets all the nutrients he needs for a full, energetic, and healthy life, with a taste he'll find too good to pass up.  Parrots like Amazons and African Greys might have good appetites, but that doesn't mean they always make the right food choices. They might very well choose seed and other high-fat, low-nutrient food over healthier selections. 
These pellets are flavored with molasses, which enhances taste naturally and improves the acceptance of pellets when finicky "seed junkies" are converted to a healthy diet. They are perfectly sized for medium to large size parrots to crumble up and can be offered as a full meal or as an important part of your bird's diet. Many parrot owners have found that their birds love a combination of foods along with their pellets, such as various fruits and vegetables.
Each pellet is a high-quality blend of natural ingredients like ground non-GMO corn and soybean meal. Grains are literally grown outside Lafeber Company's front door.  The whole egg is included, one of the most digestible forms of protein, and essential vitamins, minerals, and amino acids are added to the mixed grains. Lafeber's Premium Daily Diet is Omega 3 & 6 fatty acids balanced to give your bird a stronger immune system, stronger bones, and healthier feathers.  Naturally flavored and naturally preserved, each batch of pellets is scientifically tested for quality at an independent laboratory so you can feel good about feeding Lafeber foods to your feathered companion.
Free of artificial food colors & dyes
Omega 3 & 6 Balanced
Naturally Preserved
Naturally Flavored
Non-GMO formula 
Available in a 5-pound size tub.  Choose from Parrot and Large Parrot size pellets 
View full details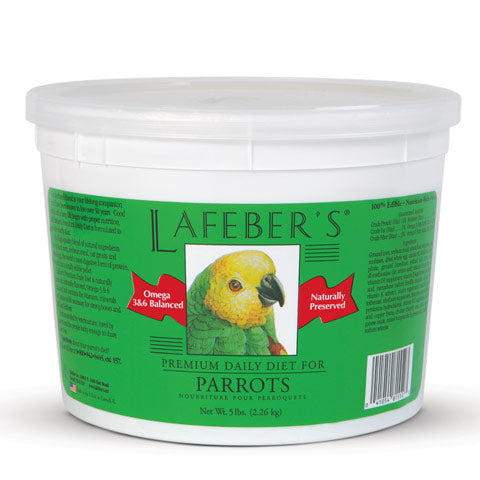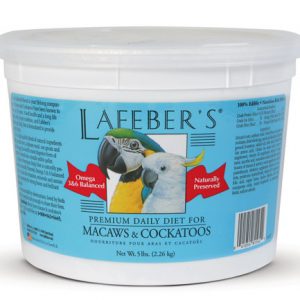 Collapsible content
Bird Recommendations

Medium, Large, and Extra Large Birds - Amazons to Macaws
Availability

Usually ships in 3-5 business days