Regular price
Sale price
$12.99
Unit price
per
Sale
Currently Sold out
Lafeber's Premium Daily Diet for Cockatiels is a high-quality blend of natural ingredients like ground non-GMO corn and soybean meal. Each pellet contains all the nutrients your cockatie or other small size parrot needs for a full, energetic, and healthy life.
Many Cockatiels will happily eat seed day-in and day-out if given the opportunity.  Unfortunately, a seed-only diet can shorten their life considerably. Seed is high in fat and lacks the nutrients needed to sustain a long, healthy life. Even seed mixes that are coated with vitamins and minerals fall short on complete nutrition, because once the bird cracks and hulls the seed these benefits are lost.
Lafeber pellets are flavored with molasses, which enhances taste naturally and improves the acceptance of pellets when finicky "seed junkies" are converted to a healthy diet. They are perfectly sized for your cockatiel or any smal size parrot to crumble up and can be offered as a full meal or as an important part of your bird's diet. Many cockatiel owners have found that their birds love a combination of foods along with their pellets, such as various fruits and vegetables.

The grains used are literally grown outside Lafeber Company's front door.  Also included is whole egg, one of the most digestible forms of protein, and essential vitamins, minerals, and amino acids are added to the mixed grains. Lafeber's Premium Daily Diet is Omega 3 & 6 fatty acid balanced to give your bird a stronger immune system, stronger bones, and healthier feathers. We also naturally flavor and naturally preserve our foods, and each batch of pellets is scientifically tested for quality at an independent laboratory so you can feel good about feeding Lafeber foods to your feathered companion.
Free of artificial food colors & dyes
Omega 3 & 6 Balanced
Naturally Preserved
Naturally Flavored
Non-GMO formula
Great size for all smaller birds such as Cockatiels, small Conures, Lovebirds, Parrotlets, and other similar-sized birds. 
Available in 1.25 lb. size
View full details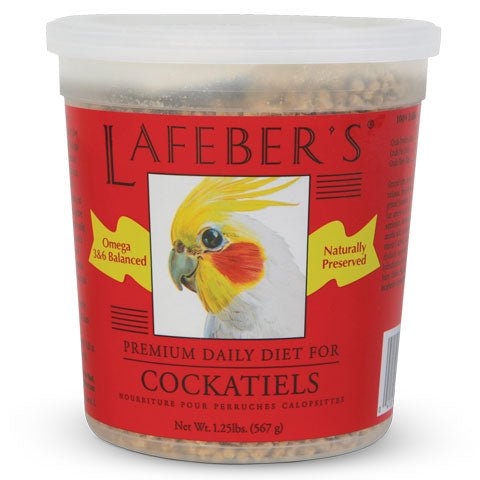 Collapsible content
Bird Recommendations

Extra Small and Small - Budgies, LoveBirds, Parrotlets, to Conures, etc.
Availability

Usually ships in 3-5 business days